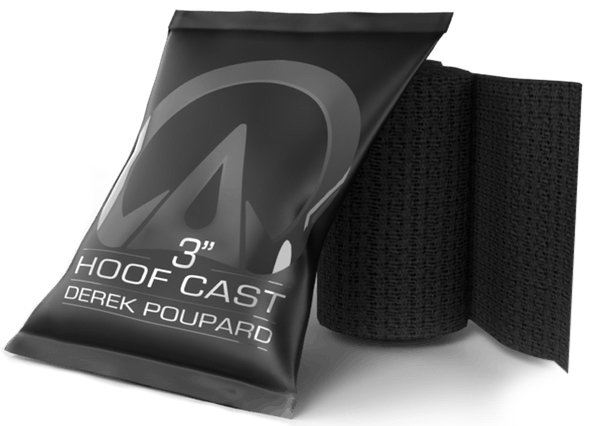 Features
Dry technique provides much greater working time and control by allowing the user the choice when to activate and cure the resin. 
Resin impregnated mesh fabric conforms to the hoof, provides support, wear protection and stabilizes the whole hoof

Derek Poupard Hoof Cast popular with equine hoof specialists around the globe, the Poupard Hoof Cast new technique supersedes all previous Hoofcasts due to its simplicity of application.
The 2 inch (5 cm by 3.6 meters) roll of casting tape sets after water application, making it a simple cost-effective way to help keep horses in work. Unlike many other products no special preparation is required prior to application, simply clean the hoof of loose dirt and exfoliation then apply. Hoof Cast is easy to use and helps revitalize horse hooves.
This Hoof Cast is used for a number of reasons
To rebuild or re-enforce a broken or damaged hoof.
To strengthen a hoof wall.
To repair and add strength where a hoof has suffered a quarter crack.
To apply a Poupard Hoof Cast, simply apply a thin layer of glue such as Equilox around the hoof. Wrap the Hoof Cast around the hoof, apply water via a rubber sponge to the casting. The Hoof Cast will commence to set within 2 to 3 minutes. Cover the Hoof Cast with layers of cling wrap material. After 15 to 20 minutes, remove the cling wrap. The Poupard Hoof Cast is then ready for a horse shoe to be affixed.
The Hoof Cast is as strong as a new hoof. Your farrier will be more than impressed how easy this Derek Poupard Hoof Cast is to apply to a damaged hoof.
We recomend using Equilox 1 Stubbie Tan &  Equilox plastic stubbie adaptor