Meet the farrier who started it all
Derek Poupard is the owner and inventor of 3D HoofCare and HoofCast. After starting his career as a farrier in South Africa, he's since traveled the world having the opportunity to work in the USA, Dubai and United Kingdom on the highest profile horses in the world.

Having spent most of his career ambitiously trying to improve the quality of a horse's hoof, his latest efforts have shown positive results in a very short time frame.

Through the use of incorporating the latest technologies such as 3D printing to create the HoofCare product, as well as developing this product alongside his own HoofCast product, the goal was to emulate the horse hoof in its natural state of being barefoot.

With the use of his products, horses around the world are able to reach their full potential in a way that's never been seen before.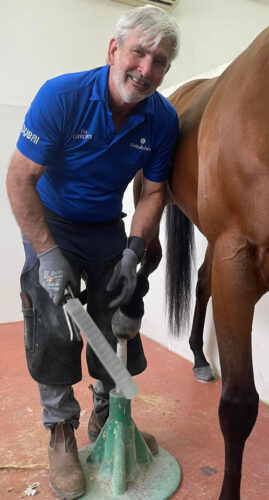 How the product evolved over time
3D HoofCare
Although 3D printing has been around for many years, Derek quickly adapted to the technology and discovered how much of a difference he was able to make to a horses quality of life. The benefit of being able to design, print and apply in a matter of hours has revolutionized the industry.

The speed and effectiveness of this discovery allows for designs to always be improved upon. With the use of bespoke pads for specific horses, there aren't many other solutions available in the market that meet the requirements of our clientele.
HoofCast is a product that is used to efficiently protect and aid a compromised foot. The product consists of a lightweight fiberglass cloth that when impregnated with water, activates a resin that will make it into a strong reinforcement for a hoof that has been compromised due to excess shoeing.

A regular horseshoe can be nailed onto this reinforced wall repeatedly without affecting the compromised hoof wall. It also used as a protection and reinforcement for thin walled horses to transition to barefoot effectively.