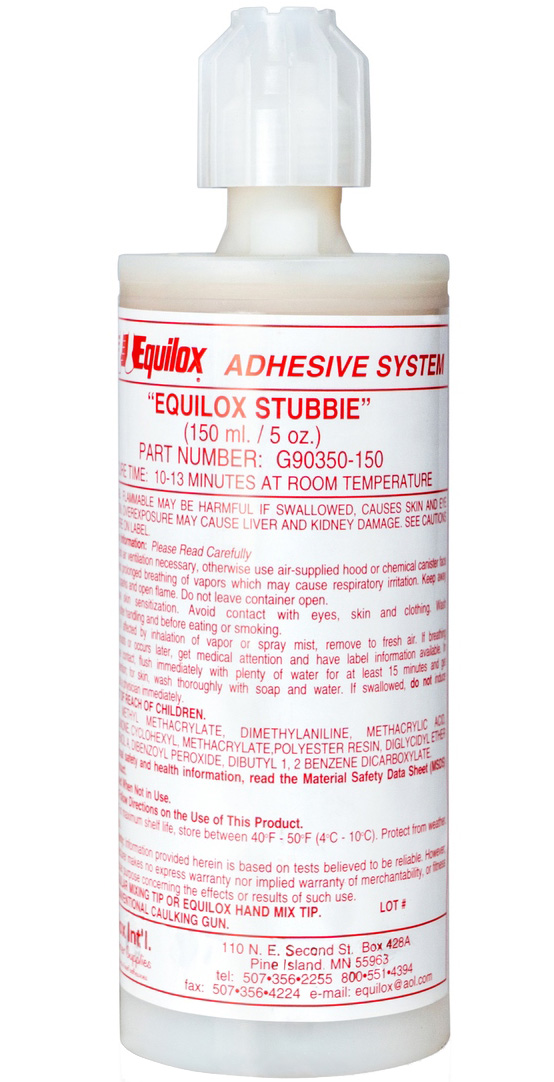 Equilox 1 Stubbie Tan is an ideal slower-setting adhesive for use with a 3DHoofCare HoofCast when repairing or protecting a damaged hoof. 
Looking for an easy-to-use glue-on adhesive that truly goes the distance, from shoeing to major repair? Only Equilox 1 Stubbie Tan 150ml is strong enough to stand up to everyday wear and tear, yet remain flexible for easy filing and shaping — even nailing — to handle all your repair jobs, from patching quarter cracks, to major hoof wall reconstruction and for using with our HoofCast.
Equilox 1 Stubbie Tan is a slower setting formula adhesive is an extremely strong resin that can be used for anything from repairing small quarter cracks to reconstructing an entire hoof wall, yet flexible enough for easy filing, shaping, and even nailing.

Set time: Sets in 6 – 8 minutes, final cure in 10 – 13 minutes at 70° Fahrenheit
Shelf life: At least 6 months from fill date (as stated on label) — or longer if refrigerated
For ease of application we also offer the Equilox Dispenser.
The below videos demonstrate how to apply Equilox 1 with 3D HoofCare's HoofCast to protect a racehorse with thin hoof walls. Note; Derek spreads Equilox manually with a wooden stick – you can take advantage of our newly-stocked Equilox 1 Stubbie and Equilox Dispenser for complete convenience!